As a huge fan of all things British Royal Family, I have obviously been loving the past few days as I check up on one of my favorite British Royal couples and their Australian tour adventures!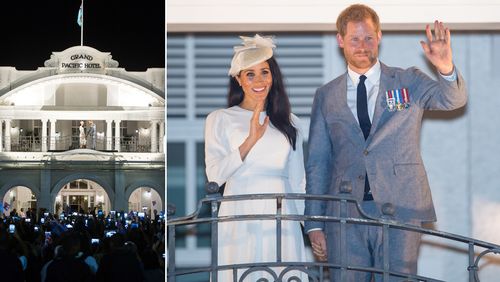 Of course I'm talking Harry and Meghan.  I'm just so grateful for her style choices and kind-fashion interests.  She has already worn several pieces that are made with recycled or eco-friendly materials and I feel well represented across the pond.  But perhaps the style choice she's made that's garnering the most attention is her very affordable, very sustainable ballet flat by Rothys.
We've all heard the saying 'pain for beauty.'  But with Rothys, that's just not necessary!  I just so happened to be researching this company a few weeks before she debuted her pair on the beaches of Australia.  And not only are they made from recycled plastic bottles that otherwise would have rotted away for decades (They've already repurposed over 10 million water bottles to create their shoes, per their website), they're also 100% vegan and did I mention super-duper comfortable?
Per their website, you can 'look good in your Rothys and feel good in your Rothys' because they are recycled and recyclable and, ready for this ladies, machine washable. And as a mom who is constantly trekking across muddy playgrounds or walking the kids to school, wow do I appreciate that!
Most of these ballet flats are less than $150, go with everything in your closet and are SUPER comfortable.  What's not to love?  Plus, they're now officially Duchess approved!
So in the spirit of our favorite ginger Duke of Sussex and his wife Meghan's rockstar fashion status on their first ever royal tour, I'm sharing a ginger cookie recipe with y'all that, like the Duchess of Sussex, works hard while being kind.  It's a delicious fall cookie that packs a flavor punch but it's made with no eggs or dairy so you can get them from batter to table in no time and feel good about downing a dozen at a time! My kids could not get enough of these-and they just so happen to go really well with a steaming hot cup of cocoa on a cold day!
Vegan Gingersnap Cookies
(recipe courtesy of lovingitvegan.com)
Ingredients:
1/4 cup vegan butter
1 cup brown sugar
1/4 cup unsulphured molasses
1/2 tsp vanilla extract
2 cups flour
1 tsp baking soda
1/4 tsp salt
2 tsps each of ground ginger and ground cinnamon
1/4 tsps each Allspice and Ground Clove
2-3 tablespoons non-dairy milk (almond or soy)
1/4 cup white sugar for rolling
Directions:
 Preheat oven to 350 degrees;
Cream butter and brown sugar together then add molasses and vanilla extract;
In a separate bowl, whisk flour, baking soda, salt and spices;
Add dry ingredients to wet ingredients and stir by hand until combined;
Add 2 tablespoons of non-dairy milk to achieve a cohesive, wet dough; you're looking to add just enough milk so that the batter is no longer "crumbly";
Roll into balls and roll through white sugar; Flatten with fork if you're going for a crunchier cookie;
Place on baking sheet and bake for 10-12 minutes; Let cool and enjoy!
Now slip on a pair of Rothys, nibble on these amazing fall-in-a-bite ginger cookies and get your comfort on!